Talley Dunn Gallery is deeply honored to announce a solo exhibition by one of the greatest contemporary sculptors of our time, Ursula von Rydingsvard. Having exhibited extensively in the United States and Europe, this is the first major exhibition of the artist's sculpture in Texas. Ursula von Rydingsvard works with uniform beams of milled cedar and intuitively carves these towering wooden pillars with her own hands, wielding a circular saw like a painter might hold a brush. Organically molded by the artist, the four-by-four cedar beams are intricately shaped into sensuously rich monumental forms that echo the oldest and most breathtaking landscapes found in nature, the beautiful contours of the body and the wondrous banal that exists in everyday objects. . Von Rydingsvard's organically abstract sculptures are finished with an artist-applied graphite patina rubbed into the gestural grooves of the sculptures' lyrically multi-faceted surfaces. Bearing the traces of the artist's hand, Von Rydingsvard's sculptures ultimately evoke the magnificence of forces that defy human will.
Von Rydingsvard was born in Germany in 1942 to Polish and Ukrainian parents, peasants who worked in forced labor under the Nazis during World War II. The family moved to nine displacement camps for Polish refugees in Germany after the war. This story of displacement and perseverance is subtly alluded to in the artist's work – perhaps in the ineffable yet powerful emotional weight that his sculptures carry, but most obviously in the titles of many of his works which bear Polish names.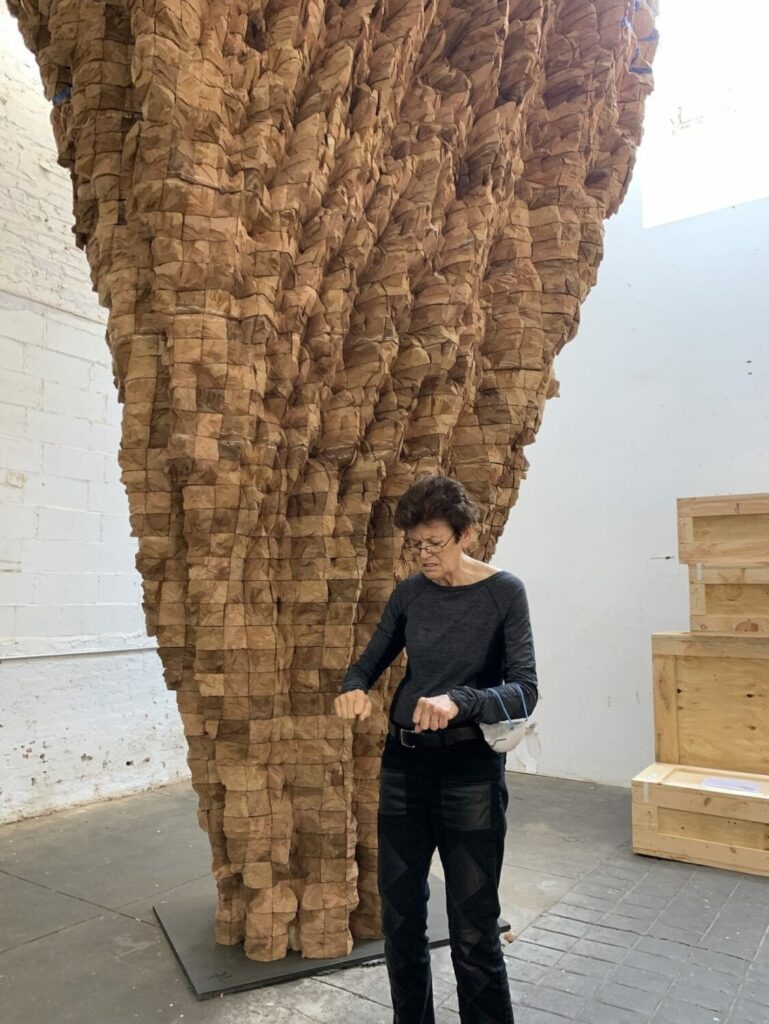 Von Rydingsvard's work is in the permanent collections of more than four dozen museums and institutions around the world, including the Metropolitan Museum of Art, NY; Museum of Modern Art, New York; Whitney Museum of American Art, NY; Walker Art Center, MN; Brooklyn Museum, New York; Contemporary Austin, TX; and National Gallery of Art, DC. Recent solo exhibitions at the museum include Ursula von Rydingsvard: The Outline of Feeling at the National Museum of Women in the Arts in Washington DC and Now she at the Philadelphia Museum of Art. She is a three-time recipient of the National Endowment for the Arts Fellowship. In 2021, she was awarded a Gold Medal for Merit in Culture in Poland. In 2018, the National Museum of Women in the Arts awarded Von Rydingsvard the Lifetime Achievement Award for Excellence in the Arts. Von Rydingsvard has lived and worked in New York for more than four decades.
A 57-minute documentary about his life, Ursula von Rydingsvard: herself, can be viewed on multiple streaming platforms.
Talley Dunn Gallery