Alicja Kwade's Heavenly Intervention on a Postmodern Icon – SURFACE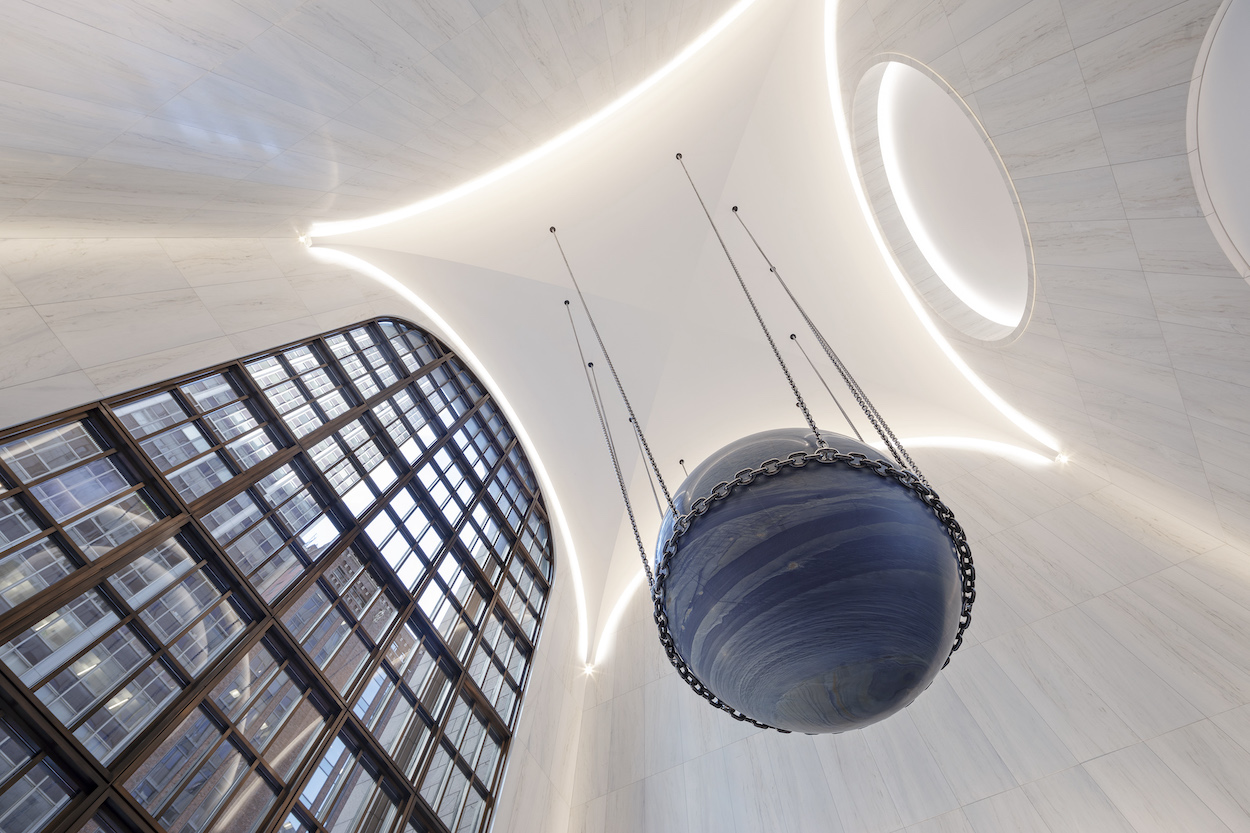 [ad_1]
Efforts are underway to revitalize the 550 Madison, a Manhattan skyscraper and postmodern icon formerly known as the Sony Tower and AT&T Building, into a multi-tenant office building for the first time. Although the project has angered conservatives concerned about threats to Philip Johnson and the cheeky design of John Burgee, developers Olayan Group recently unveiled the gutted and transformed lobby of the 37-story building: a space cathedral-like designed by Gensler and anchored by a monumental installation by Alicja Kwadé.
Kwade swings a precarious 12 feet above the ground in the 65-foot-high vaulted entrance to the lobby. Solid sky, a huge sphere fashioned from the brilliant Azul do Macaubas stone quarried in northeastern Brazil. "This rock is the result of a metamorphosis that took place over a billion years ago and was created under great pressure and high temperatures," Kwade said in a statement. "There is always something metaphysical and magical about a metamorphosis. Due to the blue color of the stone, the ball looks like the planet Earth, very fragile and small compared to the whole universe.
The German-Polish artist, who took advantage of a solo exhibition on the roof of the Metropolitan Museum of Art in 2019, wanted the Earth-like sphere to pay homage to the building's circular patterns (including the distinctive Chippendale pediment of the facade) while drawing curious glances towards the impressive triple height ceilings. "Solid sky respects the revolutionary architecture of the building, both integrated into its environment, while playing with them and challenging them with its captivating color, weight and lightness ", explains Alex Toledano, president of VISTO, the art consultancy of building. Estimated to be 1.2 billion years old, the quartzite sphere has also been rotated 23.5 degrees to match the axial tilt of the Earth.
Although Solid sky has become the indisputable centerpiece of 550 Madison, expect more art in the months to come. Olayan has pledged to fill the rest of the skyscraper with works from other renowned female artists and will preserve two huge 30-by-29-foot murals by Dorothea Rockburne that Sony originally commissioned for the second-floor lobby in 1993. Snøhetta, meanwhile, is working hard on an expansion of the building's landscaped garden.
[ad_2]